When:
September 28, 2019 @ 11:00 am – 6:00 pm
2019-09-28T11:00:00-04:00
2019-09-28T18:00:00-04:00
Where:
Boston City Hall Plaza
City Hall Plaza
Boston MA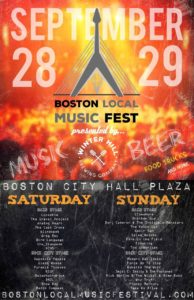 September 28 & 29, 2019 — 11AM – 6PM — Free and Open to the Public
The Boston Local Music Festival 2019 is sponsored by Winter Hill Brewing Co. and takes place on September 28 & 29th on City Hall Plaza. 40+ Bands on the Winter Hill Brewing Co Main Stage and the Rock City Stage. Local Bands, Food trucks, Artists and Vendors… What's not to love!?
Come See Boston Local Bands at the Music Festival sponsored by Winter Hill Brewing Co. Food Trucks, Vendors, Artists, and Bands: Lockette, Wrought Iron Hex, Analog Heart, The Cast Irons, blindspot, Greg Roy, Bird Language, the_Stampede, OC45, Elsewhere, Brother Guy, Dori Cameron & the Invisible Monsters, The Knock Ups, Kabir Sen, Salem Wolves, Fire in the Field, Fireking, The Gobshites, Opposite People, Set Fire, Pyramid Thieves, KCUF, Baluchitherium, DNZL, Snow Day, Radio Compass, Modern Day Idols, Force Us To Stop, Boketto The Wolf, Smitt E. Smitty & The Feztones, Rick Berlin & The Nickel and Dime Band, Why Try?, Planet Mercury, Take Us Alive